Tokyo, November 16, 2023 – Terra Drone Corporation, a drone and Urban Air Mobility (UAM) technology company headquartered in Japan, is excited to announce today the unveiling of its new corporate mission, Unlock "X" Dimensions." This mission  is designed to integrate diverse dimensions and create a prosperous future. Simultaneously, Terra Drone has launched a revamped corporate website.
New Corporate Mission: Unlock "X" Dimensions
Urbanization and technological advances now continue to change the definition of enriched living. At the same time, there are still many challenges and issues to be resolved for the future. 
The word "Terra" in our company name means "world" in Latin. It expresses our will to face challenges and issues around the world. 
Our mission is to "cross" bridges by integrating diverse fields to foster innovation and find solutions. We aim to realize a sustainable and prosperous future.
Terra Drone has been developing and providing comprehensive hardware, software, and services related to air transportation, including drones and Urban Air Mobility(UAM), both in Japan and abroad, under "Unlock the Sky." The company is dedicated to improving safety and efficiency by developing digital infrastructure and case studies that unlock the full potential of air mobility. Drawing from this experience, Terra Drone aims to fuse various domains to create new industries and businesses, resolving global social challenges, further developing our company, and creating new value for society.
While continuing to cherish the policy "Unlock the Sky" as our business mission, we have revamped the new corporate mission [Unlock "X" Dimensions] to be easily understood and empathized globally. This mission reflects the input from management and team members across the world.
Why We Redesigned Our Corporate Website
To deepen our communication with stakeholders who share our challenges and new mission, we have completely redesigned our corporate website.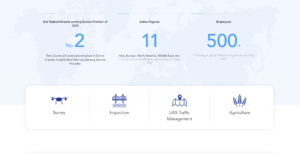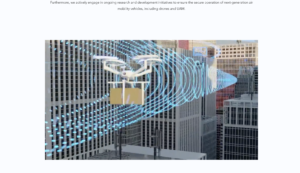 Movie URL:https://youtu.be/n6JGkdMz8xk
The new design allows for comprehensive coverage of varying content, including Terra Drone's mission and the latest business and technology information.With this redesign, Terra Drone aims to further enhance and deepen communication with all our stakeholders.
Highlights of the Corporate Website Redesign
As Terra Drone pushes for global expansion, we emphasize a design concept thoroughly aware of our customers' feelings, without dependence on any specific country. The refreshed corporate website consistently employs a rich and profound brand color (blue) and design, ensuring users strongly perceive the unified brand image on every page.
Transparency in Business Dimensions: 
Information was less organized in the previous corporate website, inadequately conveying the scope of Terra Drone's business and global initiatives. The new website prioritizes transparency in our diversified business, clearly communicating Terra Drone's commitments.
Visualizing the Future of Drones and Urban Air Mobility
We envision a world where drones and UAM are seamlessly integrated into our everyday lives. To bring this bold future to life, our corporate website is rich with dynamic visuals and engaging content. Experience the excitement of tomorrow through our immersive galleries of images and videos that showcase the transformative potential of these technologies. Join us on this exhilarating journey to the future.
About Terra Drone
Terra Drone is a pioneering drone and Urban Air Mobility (UAM) technology company headquartered in Japan, with the mission to [ Unlock "X" Dimensions ], creating a prosperous future by "crossing" bridges by integrating diverse fields to foster innovation and find solutions. Its proprietary, patented technologies in drones, sensors, software are the foundation of the specialized solutions—ranging from surveying and inspections to pesticide spraying—which are revolutionizing key industries including oil and gas, construction and engineering, chemicals, electricity, and agriculture on a global scale.
In July 2023, Terra Drone acquired a majority stake in Unifly, a world leading provider of Unmanned Aircraft Systems Traffic Management (UTM) systems, having a proven track record of implementing its system on a national level in over eight countries. Terra Drone's ambition is to develop comprehensive solutions for drones and UAM, with the overarching aim of establishing a digital infrastructure in the skies to maximize the potential of air mobility.
For more information, please visit our website:https://terra-drone.net/global/